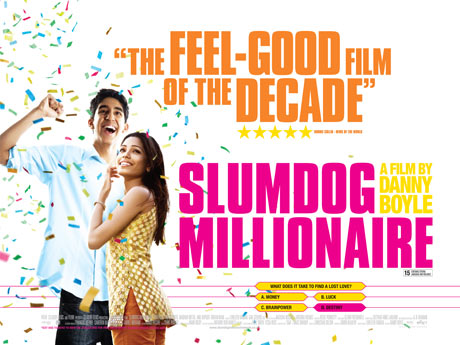 This is an amazingly thrilling story or rather a love story. Yes, this movie is one of the best of 2008. I loved this weekend because I saw two of the best movies of the last year. Both defining a really different genre of the movie making. Slumdog Millionaire is a such a good movie that you will not be able to leave your seat through out the movie. It is the second movie of the year which made me firmly sitting on the seat even in the intermission; obviously the other movie was "The Dark Knight". I was so eager to watch what will happen next? For this the maximum credit goes to the screenplay of the movie which is just extraordinary, may be the best of the year. I would keep it over the "The Dark Knight".
This movie swept 4 Grammy including the best screenplay and best original music. Being a Grammy award winner now I do see this movie a strong contender for the Academy awards too.
Slumdog Millionaire has many of amazing things in its favor which makes it a better movie than others. The first thing which comes in my about this movie after watching it was the amazing screenplay and direction. Second thing, the movie is an out n out commercial movie. By commercial movie I meant, it is not one of those parallel or independent movie which has a lot of drama etc. Third major point, the brilliant performances by the whole cast especially the child actors. They were awesome, my apologies that do not have their names with me but standing applause for them from me.
A.R. Rahman has already been known all over the world for his music but I'm sure Grammy for this movie will increase his popularity also earning recognition and respect for Indian movie industry all over the world.
The only issue with the movie is that it is been released in Indian theaters late. But the movie is still a treat. I have booked in advance for the movie; if you have not then you will not be getting for atleast first 3-4 days.
Strongly recommended.
9\10 Stars