Today was tough. I
woke
up
late
this morning.
Missed
the first
bus
, caught the second and was late about 10 mins......good thing.....
timing isn't
a big issue. Next, one of my
friend called
while i was traveling to office that too when i talked to her like ....... 2 times in last 3 days. Then, she broke the news that
she's getting engaged
. I wasn't shocked cause i knew it was coming soon but yes thought how will be able to make it.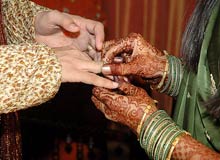 Engagement is also as big as a wedding here. Its not always like a guy proposing a girl. Anyways, it will be a once in a life time day for her and being a
good friend
.......yea, that's me. I
want to attend
it. I'll try my best to be there, said the same to her. However, even i'm
not confident
rite now of
making it
. Really, really want to be there. Pray for me.
Another thing happened was the one big issue have been solved. The issue
food
. If you remember, i have moved to a new place.......... and the issue was that as i don't know how to cook and eating out everyday was boring and not feasible for me. Also. i'm not used to it. Now its been solved and I'm happy for that. Actually, the issue got resolved today and i don't have to go out from today.
Wishing all a happy Tuesday and Wednesday
...and other days too............Rite now i'm wishing you all to get atleast one good news today.
\,,,/